Travel Ideas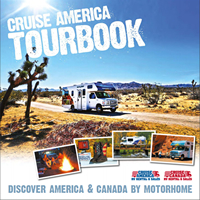 If you are considering a vacation in a Cruise America RV but need a little help working out the details, you're not alone. The task of planning a trip that suits your unique interests, your schedule, and your budget is challenging. After all, there are so many places that make perfect destinations for your RV adventure!
Once you have made your Cruise America motorhome reservation with us, we will if you wish supply a personalised driving itinerary for you. Or you can take a guide from our tried and tested itineraries by clicking here: Download the Cruise America TourBook
Itineries are prepared in the Adobe Acrobat (PDF) format. If you do not have the
reader you may get it from Adobe:
RENTALS ARE POSSIBLE FROM THIRTY-TWO NORTH AMERICAN LOCATIONS.
Benefit from our unique personalised itinerary planning service by first checking our online TOURBOOK for ideas!
Choose your RV